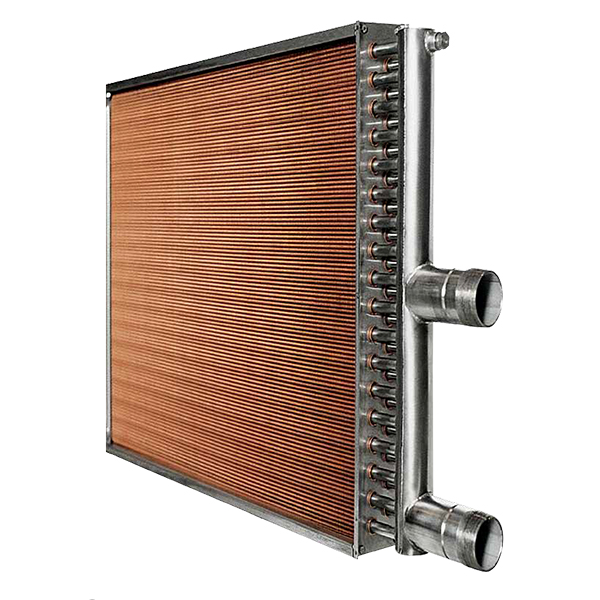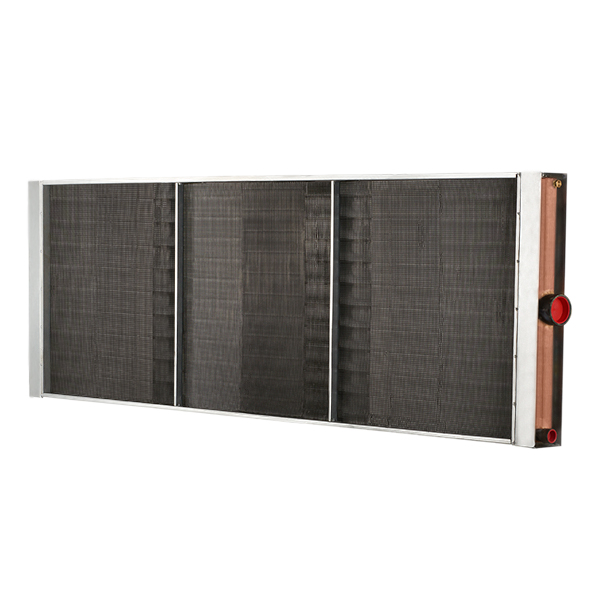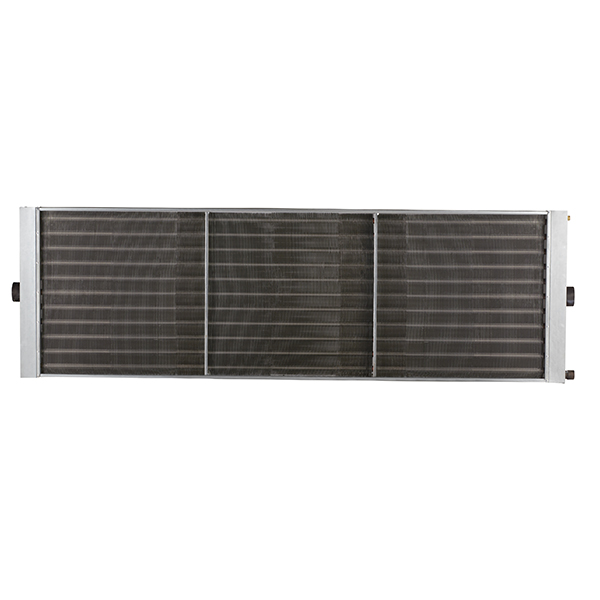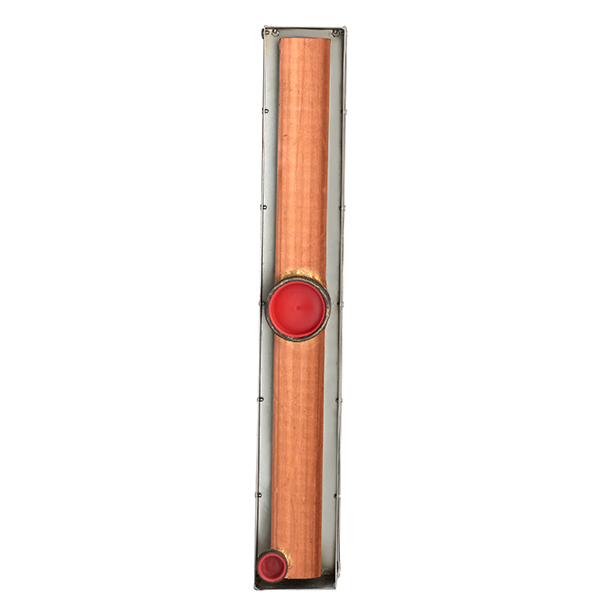 Heatcraft® Steam Coils are used in industrial air heating and processing and HVAC applications. These coils make use of the steam's hidden heat (change of state) that is released when it condenses from a vapor to a liquid.  All steam coils are specifically designed with condensate management in mind. Tube and connection size are combined to limit condensate retention in the coil, preventing water hammer while delivering even distribution of steam across the entire face. Steam coil construction is available for high and low pressure applications and is a very effective way to heat air.
Standard steam coil type is a single tube design made from a 5/8″ or 1″ tube steam coil. The steam supply and condensate return headers and connections are normally at opposite ends of the coil. Uniform steam distribution to each coil core tube is accomplished by proper header assembly design.
A steam distributing coil is a dual-tube design using 5/8″ and 1″ tubes that are commonly referred to as freeze-resistant.  It is important to note that any steam coil can have condensed water freeze when exposed to freezing temperatures without properly draining the condensate.
This coil design utilizes a smaller inner tube with precisely spaced directional orifice-type perforations. This arrangement helps direct condensate flow to the return header. The steam supply, condensate return headers, and connections may be fabricated as a same-end or opposite-end construction. When made as a same-end connection, the header appears as a single large header, but is actually two headers in one. Compartmentalizing the header serves multiple functions by providing for a supply and return. The inner steam supply header warms the condensate return and allows same-end connected single and two-row coil construction. This eliminates the unwanted core tube return bends on a steam coil.
Steam Coil Construction
Americas
EMEA
APAC
Tubing
5/8", 1″ O.D. Copper, CuproNickel, Carbon Steel, Stainless Steel
1/2", 15mm (P40) O.D. Copper
N/A
Circuit Type
Distributing, Non-Distributing
Upon request
N/A
Rows
1 (5/8″ & 1″) or 2 (5/8″)
1, 2, 3, 4, 6, 8, 10, 12
N/A
Fin Surface
Sine Wave (corrugated), New Ripple (peak and valley) or Flat (5/8″ only)
Louvered
N/A
Tube Patterns
Various
Various
N/A
Casing / Mounting
Galvanized Steel, Stainless Steel, Carbon Steel, Copper or Aluminum
Galvanized Steel, Stainless Steel, AcidProof, AluZink® or Aluminum
N/A
Connections
Carbon Steel, Stainless Steel, Red Brass, Copper (Braze, MPT, FPT, Victaulic, Welded)
Copper, Steel threaded
N/A
Vents & Drains
Standard
Upon request
N/A
Fin Material
Aluminum, Copper all tube sizes                                                Stainless Steel, Carbon Steel – 5/8″ Only
Aluminum, Copper, Corropaint (epoxy coated), Pre tinned copper, hydro paint
N/A
Options
Electro-Fin coating, Bolting Flanges
Flange connection, ElectroFin® E-Coating, Heresite®® Coatings
N/A
Links
Steam Catalog
Steam Coil Installation, Operation and Maintenance
Steam Coil Specification
Certified Drawing: Steam Distributing
Certified Drawing: Standard Steam
Certified Drawing: Steam Distributing w/Box Headers
VENTILATION HEAT EXCHANGER
Tube Patterns
N/A
Steam Coil Construction
Americas
EMEA
APAC
Tubing
3/8″, 1/2″, 5/8", 1″ O.D. Copper & 5/8″, 1″ CuproNickel, Carbon Steel, Stainless Steel
1/2", 15mm (P40) O.D. Copper
 5/8" O.D. Copper, Cu/Ni, Stainless Steel
Circuit Type
Distributing, Non-Distributing (5/8″ & 1″), Custom all tube sizes
Upon request
Distributing, Non-Distributing (5/8″)
Rows
1 (5/8″ & 1″) or 2 (5/8″), 3 thru 6 row custom
1, 2, 3, 4, 6, 8, 10, 12
1 or 2 (5/8″), 3 to 4 row custom
Fin Surface
Sine Wave (corrugated), New Ripple (peak and valley) or Flat (5/8″ only)
Louvered
Sine Wave (corrugated) , New Ripple (peak and valley) or Flat
Tube Patterns
Various
Various
Various
Casing / Mounting
Galvanized Steel, Stainless Steel, Carbon Steel, Copper or Aluminum
Galvanized Steel, Stainless Steel, AcidProof, AluZink® or Aluminum
Galvanized Steel, Stainless Steel, Copper or Aluminum
Connections
Carbon Steel, Stainless Steel, Red Brass, Copper (Braze, MPT, FPT, Victaulic, Welded)
Copper, Steel threaded
Carbon Steel, Stainless Steel, Red Brass, Copper (Braze, MPT, FPT, Victaulic, Welded)
Vents & Drains
Standard
Upon request
Standard
Fin Material
Aluminum, Copper all tube sizes                                                Stainless Steel, Carbon Steel – 5/8″ Only
Aluminum, Copper, Corropaint (epoxy coated), Pre tinned copper, hydro paint
Al, AlMg, Copper, Stainless Steel
Options
Electro-Fin coating, Bolting Flanges
Flange connection, ElectroFin® E-Coating, Heresite® Coatings
E-coating
Links
Steam Catalog
Steam Coil Installation, Operation and Maintenance
Steam Coil Specification
Certified Drawing: Steam Distributing
Certified Drawing: Standard Steam
Certified Drawing: Steam Distributing w/Box Headers
VENTILATION HEAT EXCHANGER
Tube Patterns
N/A
Contact Us For More Information