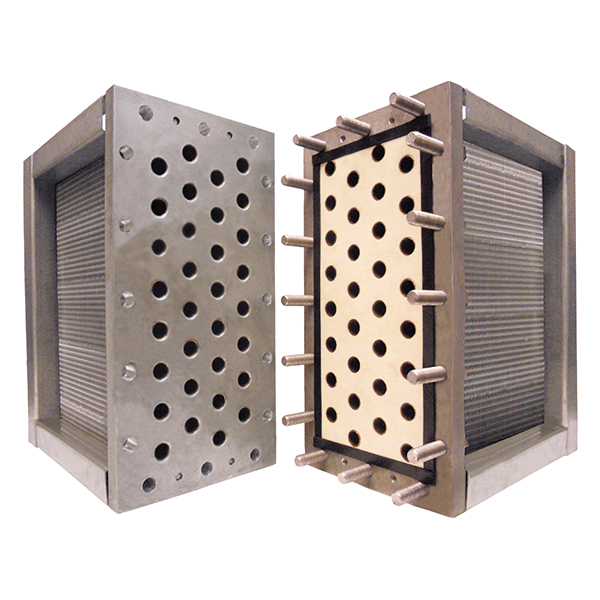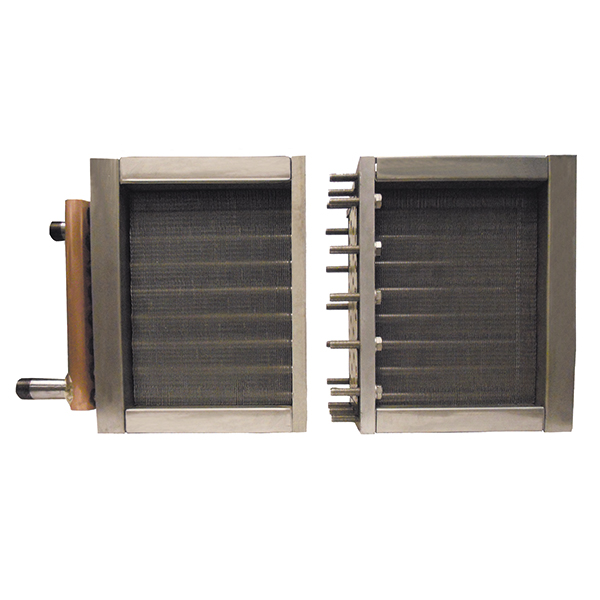 Heatcraft® Modu-Coil (modular coils) offer alternative replacement solutions for situations where one-piece coils are bigger than the space needed to maneuver them into their operation location.
The Modu-Coil is a fluid coil that incorporates many of the features found in Heatcraft®'s Fluid Heating and Cooling coils built in two modules or sections. This unique construction makes it possible for each module to fit in elevators and tight spaces – thus making the coil's transportation and installation easier. Heatcraft® Modu-Coil's greatest benefit is that it eliminates the need for demolishing walls or altering a building's structure to replace a coil. This can result in huge savings on expensive demolition/remodeling and crane services, while at the same time reducing system down time.
Each of the two modular sections are constructed with one tube plate where each section's open tubes terminate. This construction allows for the two sections and one gasket to be aligned using the factory pre-installed bolts to complete the coil assembly.
Modu-Coil Construction
Americas
EMEA
APAC
Tubing
1/2", 5/8" O.D. Copper, 5/8″ Cupronickel, Stainless Steel, Carbon Steel
N/A
N/A
Circuit Type
Quarter, Half, Three Quarter, Single, One and one half, Double, Triple or Custom
N/A
N/A
Rows
1, 2, 3, 4, 5, 6, 8, 10, 12
N/A
N/A
Fin Surface
Sine Wave (corrugated), New Ripple (peak and valley) or Flat
N/A
N/A
Tube Patterns
Various
N/A
N/A
Casing / Mounting
Galvanized Steel, Stainless Steel, Carbon Steel, Copper or Aluminum
N/A
N/A
Connections
Carbon Steel, Stainless Steel, Copper (Braze, MPT, FPT, Victaulic, Welded)
N/A
N/A
Vents & Drains
Standard
N/A
N/A
Fin Material
Aluminum, Copper all tube sizes
Stainless Steel, Carbon Steel – 5/8″ Only
N/A
N/A
Options
Electro-Fin coating, Bolting Flanges
N/A
N/A
Links
Certified Drawing: Modu-Coil
Modu-Coil IOM
Modine Modu-Coil Flyer
Modular Coil Information
N/A
N/A
Modu-Coil Construction
Americas
EMEA
APAC
Tubing
1/2", 5/8" O.D. Copper, 5/8″ Cupronickel, Stainless Steel, Carbon Steel
N/A
N/A
Circuit Type
Quarter, Half, Three Quarter, Single, One and one half, Double, Triple or Custom
N/A
N/A
Rows
1, 2, 3, 4, 5, 6, 8, 10, 12
N/A
N/A
Fin Surface
Sine Wave (corrugated), New Ripple (peak and valley) or Flat
N/A
N/A
Tube Patterns
Various
N/A
N/A
Casing / Mounting
Galvanized Steel, Stainless Steel, Carbon Steel, Copper or Aluminum
N/A
N/A
Connections
Carbon Steel, Stainless Steel, Copper (Braze, MPT, FPT, Victaulic, Welded)
N/A
N/A
Vents & Drains
Standard
N/A
N/A
Fin Material
Aluminum, Copper all tube sizes
Stainless Steel, Carbon Steel – 5/8″ Only
N/A
N/A
Options
Electro-Fin coating, Bolting Flanges
N/A
N/A
Links
Certified Drawing: Modu-Coil
Modu-Coil IOM
Modine Modu-Coil Flyer
Modular Coil Information
N/A
N/A
Contact Us For More Information