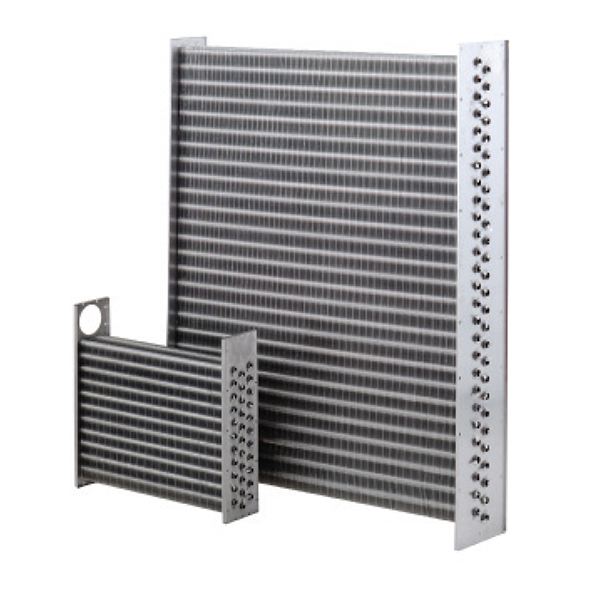 Modine is experienced in applying heat recovery coils (HRCs) into high efficiency condensing furnaces (90+) for the residential and commercial markets. Our cores are optimized to meet the specific demands of the challenging performance and the corrosive combustion by-products found in the furnace environment using 29-4C super ferritic stainless steel tubes, headers, and turbulators. Our application engineers can work with you to optimize your system to meet your cost and performance requirements.
Modine offers four (4) fin thicknesses and five (5) fin designs that allow for fine tuning your coil's performance to meet your specific application.
If you have a furnace that is considered high-efficiency (90%+ efficient), it contains both a primary and secondary heat exchanger. As the combustion exhaust leaves the primary heat exchanger, it travels into a secondary heat exchanger where more heat is released from the flue gas and water vapor begins to form. This change of state from water as a vapor to a liquid releases latent heat in the secondary heat exchanger, bringing the furnace to an even higher level of efficiency. This is why high-efficiency furnaces are sometimes referred to as condensing furnaces. Secondary heat exchangers are generally constructed from stainless steel or a coated steel material capable of withstanding heat, moisture, and acid.
| | | | |
| --- | --- | --- | --- |
| Recuperative Coil Construction | Americas | EMEA | APAC |
| Tubing | 3/8" and 1/2" 29-4C  Stainless Steel | N/A | N/A |
| Circuit Type | Typically 1 circuit with straight tubes | N/A | N/A |
| Rows | 1, 2, 3, 4, 5, 6 | N/A | N/A |
| Fin Surface | Louver, Lance, Sine Wave (corrugated) , New Ripple (peak and valley) or Flat | N/A | N/A |
| Tube Patterns | Various | N/A | N/A |
| Casing / Mounting | Plastic and Stainless Steel header boxes | N/A | N/A |
| Connections | Customer Specific | N/A | N/A |
| Vents & Drains | Customer Specific | N/A | N/A |
| Fin Material | Aluminum | N/A | N/A |
| Options | 29-4C Turbulators | N/A | N/A |
| Links | Under Development | N/A | N/A |
| | | | |
| --- | --- | --- | --- |
| Recuperative Coil Construction | Americas | EMEA | APAC |
| Tubing | N/A | N/A | N/A |
| Circuit Type | N/A | N/A | N/A |
| Rows | N/A | N/A | N/A |
| Fin Surface | N/A | N/A | N/A |
| Tube Patterns | N/A | N/A | N/A |
| Casing / Mounting | N/A | N/A | N/A |
| Connections | N/A | N/A | N/A |
| Vents & Drains | N/A | N/A | N/A |
| Fin Material | N/A | N/A | N/A |
| Options | N/A | N/A | N/A |
| Links | N/A | N/A | N/A |
Contact Us For More Information