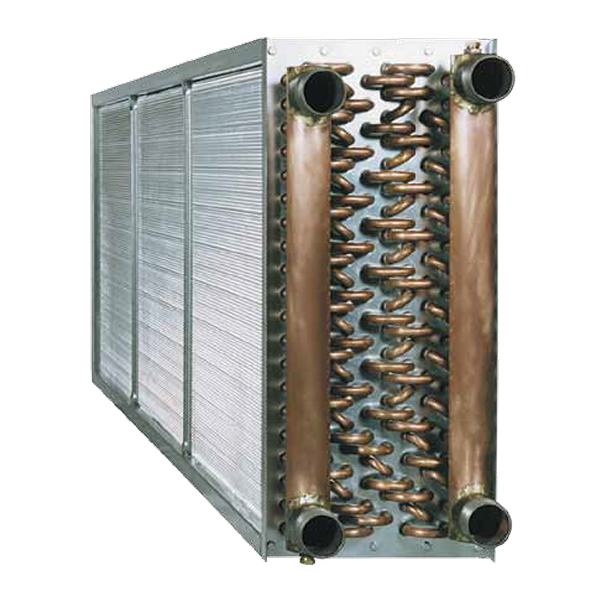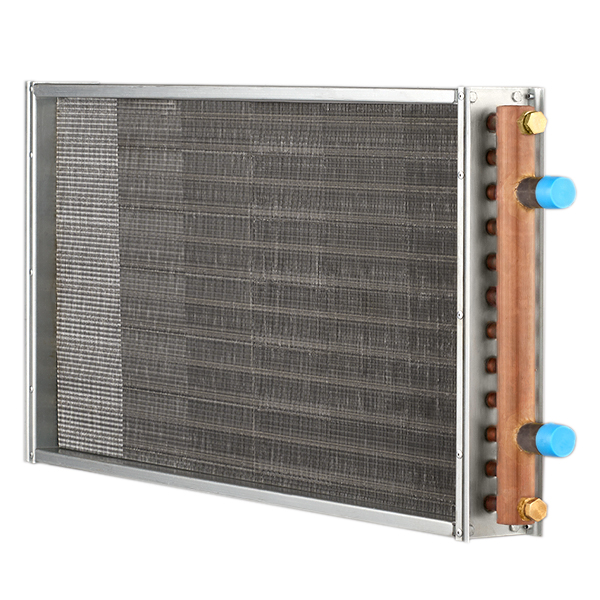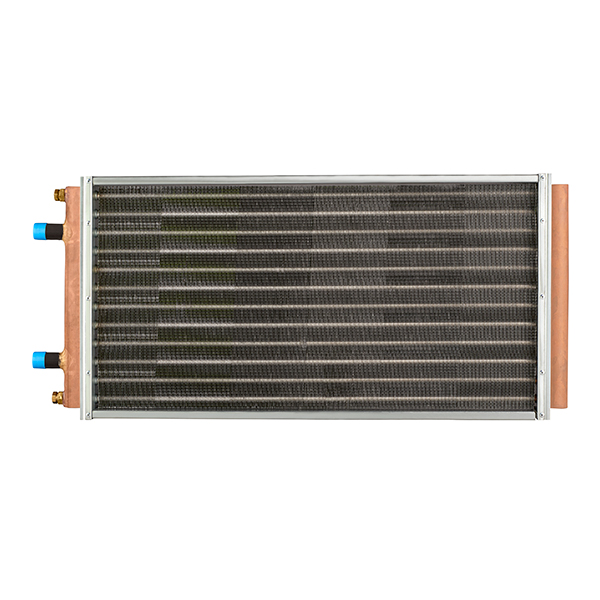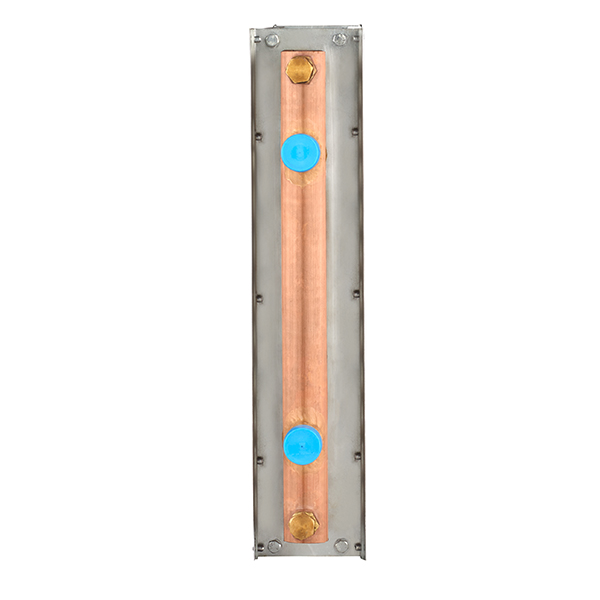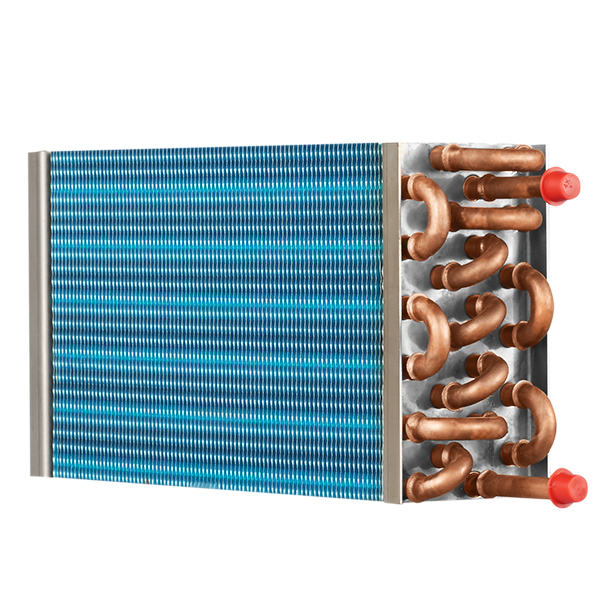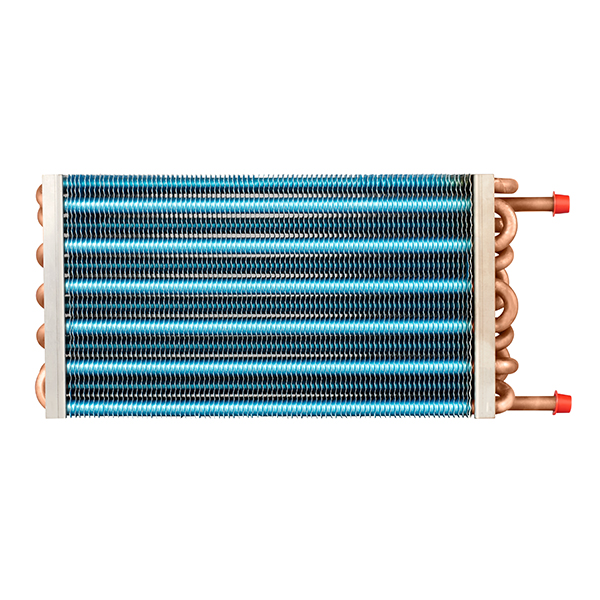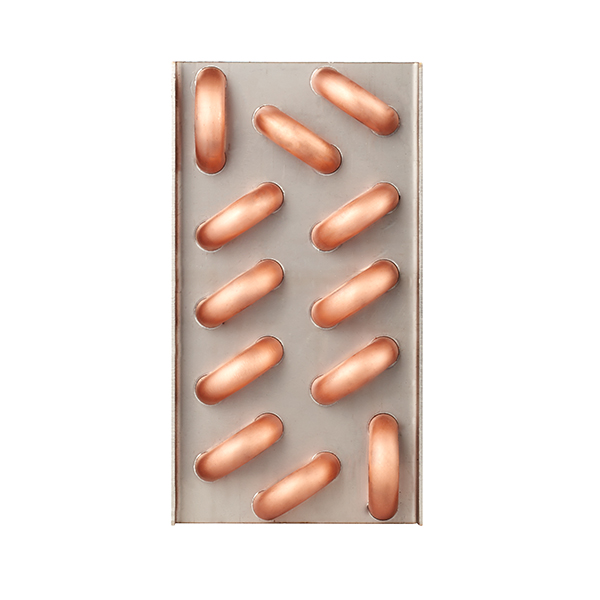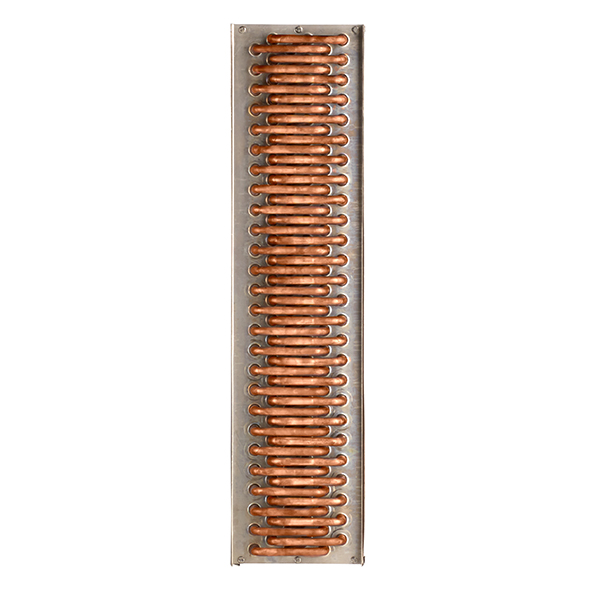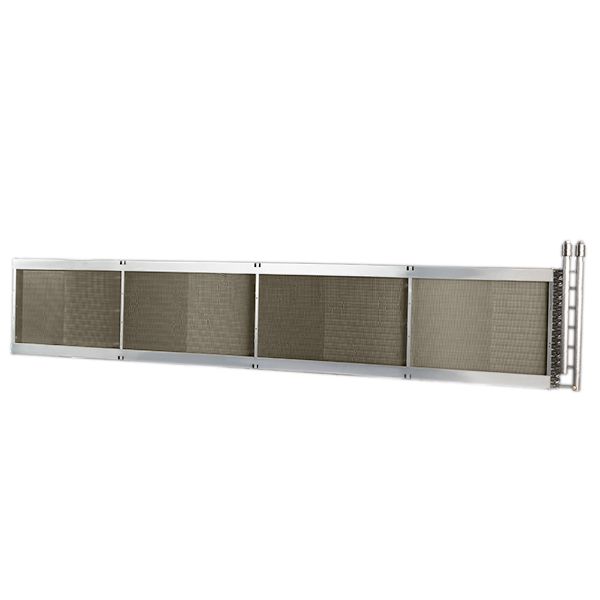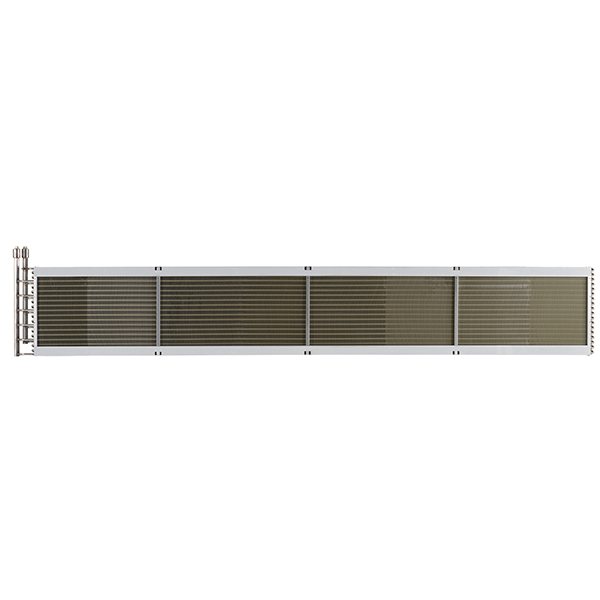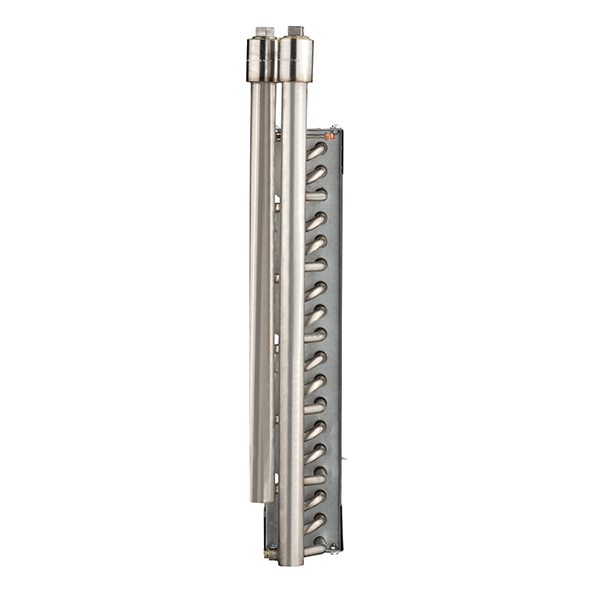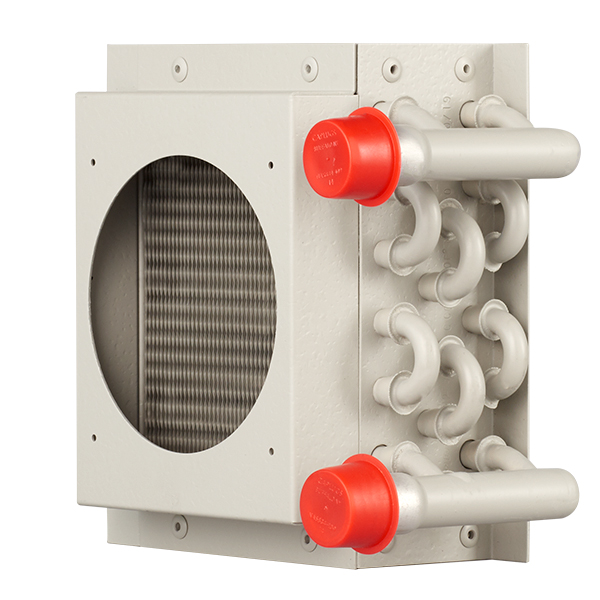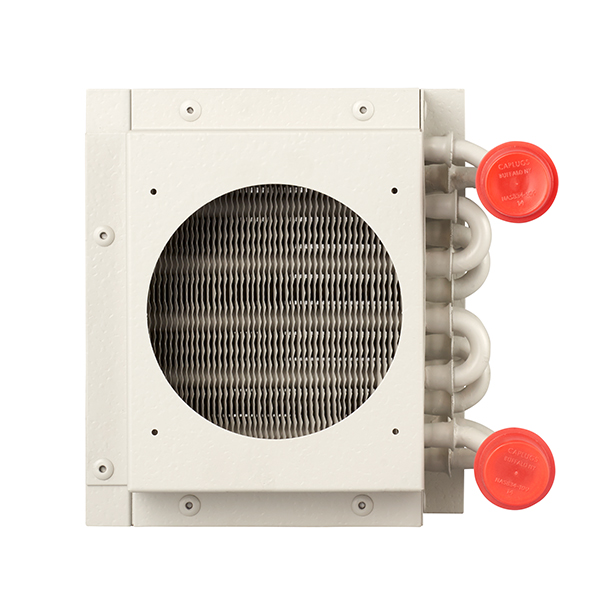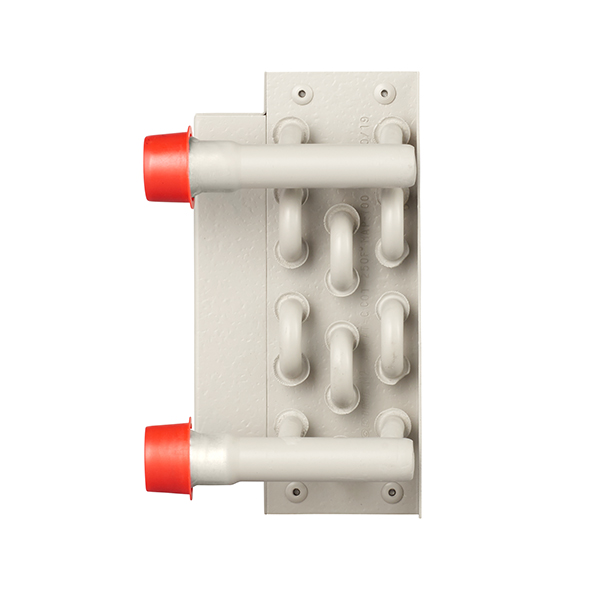 Heatcraft® Fluid Heating and Cooling coils are typically used to heat or cool air within a condition space. They are components of a large air handling system or unit and commonly labeled as an Air Handling Unit (AHU). Heating coils typically have one to four rows of copper tubes and cooling coils – sometimes up to 12 rows or more, depending on the specific requirements for that application. Heatcraft® heat transfer products include a large variety of drainable circuiting options, making these coils a good choice for most HVAC/R heat transfer applications. They can be made for use with water, glycols, brines, thermal oils, or ammonia-based fluid systems.
Air Handling Unit (AHU) coils can be designed and provided for any customer's specific need. Selections and calculations are easily done using state-of-the art and user-friendly software tools.
When recommending a coil design, we take many factors into consideration. We will work with you to identify the material combination that is best for your application's environment and atmospheric conditions into which the coil will be placed. We'll also recommend a frame design according to the installation type, the maximum fin area, and required fin protection.
Fluid Coil Construction
Americas
EMEA
APAC
Tubing
3/8", 1/2" O.D. Cu & 5/8" O.D. Cu, CuNi, St Stl, Carbon Stl, AD Brass
1/2", 15mm (P40) O.D. Copper
N/A
Circuit Type
Quarter, Half, Three Quarter, Single, One and one half, Double, Triple or Custom
Upon Request
N/A
Rows
1, 2, 3, 4, 5, 6, 8, 10, 12
1, 2, 3, 4, 6, 8, 10, 12
N/A
Fin Surface
Sine Wave (corrugated), New Ripple (peak and valley) or Flat
Louvered or flat (slightly louvered)
N/A
Tube Patterns
Various
Various
N/A
Casing / Mounting
Galvanized Steel, Stainless Steel, Carbon Steel, Copper or Aluminum
Galvanized Steel, Stainless Steel, AcidProof, AluZink® or Aluminum
N/A
Connections
Carbon Steel, Stainless Steel, Red Brass, Copper (Braze, MPT, FPT, Victaulic, Welded)
Copper, Steel threaded
N/A
Vents & Drains
Standard
Upon Request
N/A
Fin Materials
Aluminum, Copper all tube sizes                                                Stainless Steel, Carbon Steel – 5/8″ Only
Aluminum, Copper, Corropaint (epoxy coated), Pre tinned copper, hydro paint
N/A
Options
ElectroFin coating, Flanged Conn., Cleanable Tubes, Universal Hand, TurboSpirals, mist eliminator
Flanged conn., turned header, L-header, ElectroFin® E-Coat, Heresite® coatings, mist eliminator
N/A
Links
Fluid Catalog
Fluid Coil Specification
Fluid Coil Installation, Operation and Maintenance
Desaturation Coil Article
Certified Drawing: Cooling Coil > 2Row
Certified Drawing: 1 and 2 Row Fluid Coils
Certified Drawing: Desaturation Coil
Certified Drawing: Cleanable > 2 Row
Certified Drawing: Mist Eliminator
VENTILATION HEAT EXCHANGER
Tube Patterns
N/A
Fluid Coil Construction
Americas
EMEA
APAC
Tubing
5/16″, 3/8", 1/2" O.D. Cu & 5/8" O.D. Cu, CuNi, St Stl, Carbon Stl, AD Brass
Ø 15 mm, Ø 5/16″, Ø 3/8″, Ø 5/8″, Ø 1/2″
3/8" O.D. Cu & 1/2", 5/8" O.D. Cu, CuNi, SS
Circuit Type
Quarter, Half, Three Quarter, Single, One and one half, Double, Triple or Custom
Upon request
Quarter, Half, Three Quarter, Single, One and one half, Double, Triple or Custom
Rows
1, 2, 3, 4, 5, 6, 8, 10, 12
1 to 12 (over upon request)
1, 2, 3, 4, 5, 6, 8, 10, 12
Fin Surface
Louver, Lance, Sine Wave (corrugated) , New Ripple (peak and valley) or Flat
V-Waffle, Sine wave, Special corrugation, Flat, Special flat / Lanced, Louvered, Slit
Louver, Sine Wave (corrugated) , New Ripple (peak and valley) or Flat
Tube Patterns
Various
Various
Various
Casing / Mounting
Galvanized Steel, Stainless Steel, Carbon Steel, Copper or Aluminum
Aluminum, Galvanized Steel, Stainless Steel, AcidProof, AluZink®, Copper, Brass
Galvanized Steel, Stainless Steel, Carbon Steel, Brass or Aluminum
Connections
Carbon Steel, Stainless Steel, Red Brass, Copper (Braze, MPT, FPT, Victaulic, Welded)
Copper, Iron, Steel threaded
Carbon Steel, Stainless Steel, Red Brass, Copper (Braze, MPT, FPT, Victaulic, Welded)
Vents & Drains
Standard
Upon Request
Standard
Fin Materials
Aluminum, Copper all tube sizes                                                Stainless Steel, Carbon Steel – 5/8″ Only
Aluminum, Copper, Pre-painted Aluminum, Tinned copper, Hydrophilic Aluminum, Corropaint
Al, AlMg, Copper all tube sizes,
Stainless Steel-5/8″ Only
Options
ElectroFin coating, Flanged Conn.,  Cleanable Tubes, Universal Hand, TurboSpirals, mist eliminator
ElectroFin® E-Coat, Heresite® coatings, Alt. fin spacing, Bent coils, Flanged conn., Turned or L-header, mist eliminator
E-coating, Universal Hand, TurboSpirals
Links
Fluid Catalog
Fluid Coil Specification
Fluid Coil Installation, Operation and Maintenance
Desaturation Coil Article
Certified Drawing: Cooling Coil > 2Row
Certified Drawing: 1 and 2 Row Fluid Coils
Certified Drawing: Desaturation Coil
Certified Drawing: Cleanable > 2 Row
Certified Drawing: Mist Eliminator
VENTILATION HEAT EXCHANGER
Tube Patterns
E-coating, Universal Hand, TurboSpirals
Contact Us For More Information