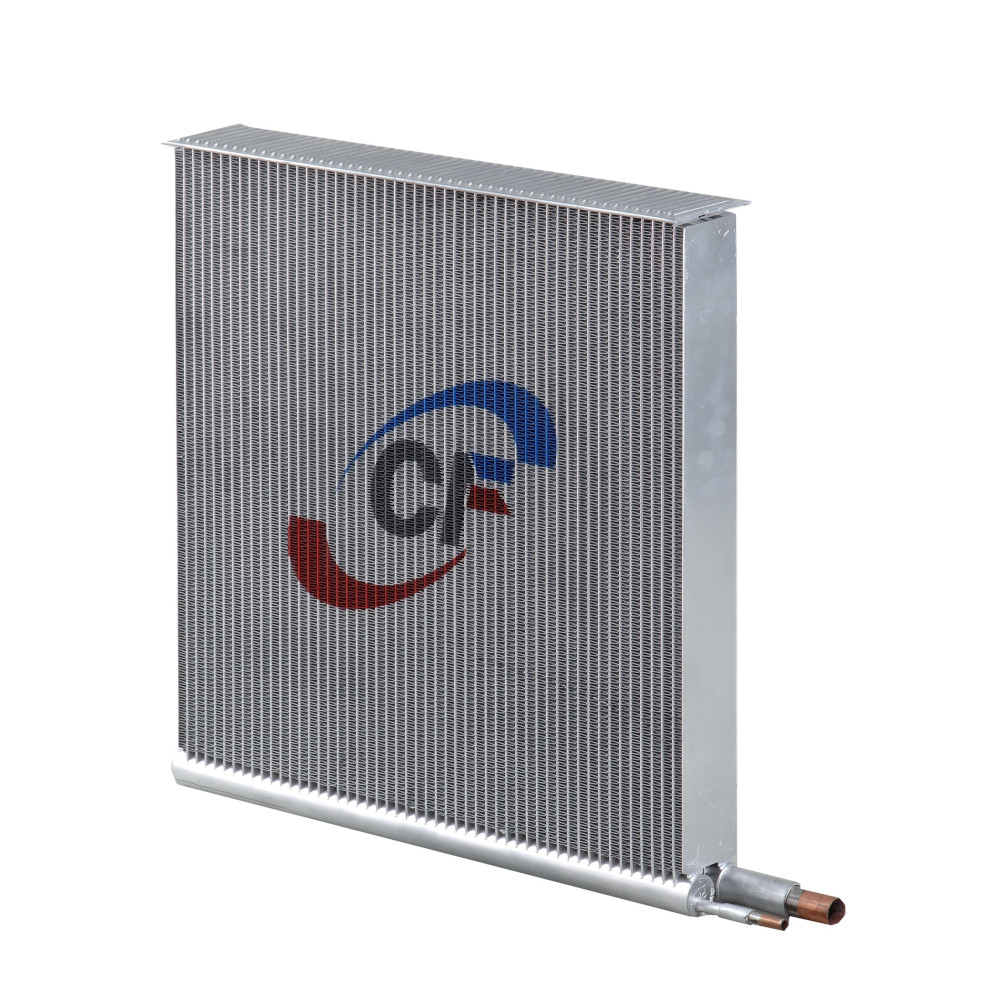 Evaporator Coils Microchannel
Modine's CF™ Evaporators are designed for ease of application, energy efficiency, and durability.  The CF microchannel evaporator provides a state-of-the-art counter flow solution for residential and commercial indoor coil needs.
The challenges of using a microchannel coil as an evaporator is to attain appropriate refrigerant distribution and operate in a true counterflow manner – avoiding stratification and frost across the face of the evaporator.  Comfort cooling is critical.  Without appropriate conditioning of the air stream, the end consumer will not be satisfied.
The warm air enters the patented CF Coil and is uniformly cooled and dehumidified by the time the air exits the coil. This is possible due to the unique two-row counterflow design. The refrigeration distribution concepts provide fully conditioned air, leaving the microchannel evaporator to maximize comfort cooling.
Microchannel Evap
Americas
EMEA
APAC
Tubing
18.8mm, 25.4mm, 27mm, 38mm
Under Development
N/A
Circuit Type
1 Row Parallel Flow
2 Row Counter Flow
Under Development
N/A
Rows
1, 2
Under Development
N/A
Fin Surface
Louver, Sine Wave (corrugated)
Under Development
N/A
Tube Pitch
Various
Under Development
N/A
Casing / Mounting
Various brackets with and without isolators
Under Development
N/A
Connections
Aluminum, Copper, Threaded, Other Customer Specified
Under Development
N/A
Vents & Drains
Not available
Under Development
N/A
Fin Material
Aluminum
Under Development
N/A
Options
Integrated Aluminum distributor
Under Development
N/A
Links
Under Development
Under Development
N/A
| | | | |
| --- | --- | --- | --- |
| Microchannel Evap | Americas | EMEA | APAC |
| Tubing | N/A | N/A | N/A |
| Circuit Type | N/A | N/A | N/A |
| Rows | N/A | N/A | N/A |
| Fin Surface | N/A | N/A | N/A |
| Tube Pitch | N/A | N/A | N/A |
| Casing / Mounting | N/A | N/A | N/A |
| Connections | N/A | N/A | N/A |
| Vents & Drains | N/A | N/A | N/A |
| Fin Material | N/A | N/A | N/A |
| Options | N/A | N/A | N/A |
| Links | N/A | N/A | N/A |
Contact Us For More Information